Accreditation and Certification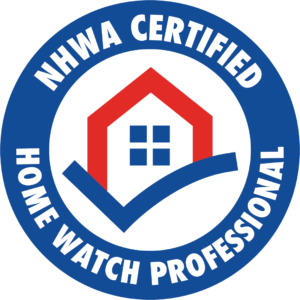 You may have spent a lot of time researching Home Watch Companies and they really all do and say the same thing, right? Well, what sets me apart is my level of commitment to ensuring I am conducting my business to the highest standards possible in this industry. This is why I joined the National Home Watch Association (NHWA), attended the Home Watch Boot Camp training course and became a certified Home Watch Professional, and went through the NHWA process to become an accredited Home Watch Company.
What does all this mean for you?
The NHWA conducts a vetting process to ensure Home Watch Companies are up to their standards to achieve the prestige of being accredited. This includes:
Background check conducted
Insurance, Bonding, and license (if applicable) has been verified
Members abide by the NHWA Code of Ethics and set of standards
Members stay up to date on the Best Practices of the Home Watch Industry
Members truly understand the three pillars of Home Watch – Trust, Communication, and Confidentiality
The NHWA also provides a rigorous training program leading to certification. This started off with my completion of the NHWA Home Watch Boot Camp two day training course with a qualified instructor, followed by a certification exam. In order to keep my certification, the NHWA requires completion of the requisite continuing education credits every two years.
All of this information can be found and verified on the National Home Watch Association website and during our in home consultation I will provide you with a copy of my credentials.
When selecting the best person to care for your home, why would you go with anyone else than someone with the highest standards, that went above and beyond by getting accredited and certified, and most importantly, one that you can trust?