About Your Nosey Neighbor
You want a Home Watch Professional that will give you peace of mind.
Nosey Neighbor Home Watch is the best neighbor to have when you're not home!
As a U.S. Coast Guard (USCG) Veteran, I spent 24 years of my life under the core values of Honor, Respect, and Devotion to Duty – these core values are now engrained in my way of life, and I will never deter from them.
Honor
"Integrity is our standard. We demonstrate uncompromising ethical conduct and moral behavior in all of our personal and organizational actions. We are loyal and accountable to the public trust." (USCG)
In prior positions while part of the USCG, I was entrusted with national security matters and promised to keep integrity as one of my highest standards. As my client, I am honored to serve you and be trusted with the care of your home while you are away.
Respect
"We value our diverse workforce. We treat each other and those we serve with fairness, dignity, respect, and compassion. We encourage creativity through empowerment. We work as a team." (USCG)
I consider you as part of the team. We will work together, with me as the eyes and ears conducting the "visual inspection of your home or property looking for obvious issues" (NHWA), and you as the decision maker on any course of actions that may need to be taken to provide the utmost care for your home. It is through our mutual respect for each other and your home that we will become a Dream Team!
Devotion to Duty
"We are professionals, military and civilian, who seek responsibility, accept accountability, and are committed to the successful achievement of our organizational goals. We exist to serve. We serve with pride." (USCG)
When I made the decision to start Nosey Neighbor Home Watch, I fully committed to the industry and the clients I serve. My devotion to duty started when I joined the National Home Watch Association (NHWA) and I serve with pride as an accredited and certified Home Watch Professional. I will maintain my accreditation and certification by continuing my membership with the NHWA, conducting mandatory continued education requirements, and participating in training opportunities. I will serve you with pride.
However, my values run even deeper than just my military time. I was raised by parents that were very active in our local church, St. Peter's Catholic Church, and worked within the community. My Dad was a retired U.S. Marine Corps Gunnery Sergeant and my Mom who was a school teacher at Tommie Barfield Elementary School. Needless to say I had a very disciplined, hardworking, and loving upbringing. I was taught to respect others and if you are going to do something, do it to the best of your ability with the utmost integrity. I will bring all these traits that have been instilled throughout my upbringing and adulthood into my business and ultimately into the care of your home.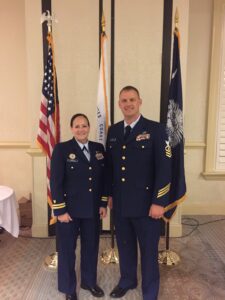 My name is Kristi Nadler and I am a homegrown Naples resident – while I was born in Minnesota, I moved here in 1978 and have called Naples home ever since. I have seen Naples grow from a small town to the vacation destination it is today. I grew up with many local families and have a good connection to other trusted professionals that have been in business for many years, even decades. Upon returning home after my military retirement in 2015,
I moved back into the house I grew up in with our two dogs, and upon my husband's USCG retirement in 2022, he joined us. We are active in local organizations such as the Coastal Conservation Association (CCA) – Naples Chapter, the Marine Industries Association of Collier County (MIACC) with their Boat Show and Kids Fishing Clinic, the Naples Take a Soldier Fishing, and the Cove Yacht Club's Christmas for Children. When we aren't working or involved in one of the above organizations, we enjoy doing what Naples is best known for – sun and fun!